News
Remembrance Day
On Friday 11th we held a short service of remembrance on the village green.
Each class contributed to the service: Class 1 wore the poppies that they had made, Class 2 laid a wreath and Class 3 read Flanders Fields. A special thanks goes to Mr Turner for offering to play The Last Post for us.
Harvest Festival
On 19th October we held our Harvest Festival at St John's Church.
All the children took part and did a fabulous job and we are so proud of them!
Class 1 introduced us to Brewster, the scarecrow and sang 'Dingle Dangle Scarecrow' as well as showing us some lovely artwork.
Class 2 played the recorder and Class 3 performed a harvest festival poem.
We also sang some hymns and Rev Sue shared a bible story.
Thank you to all the parents, carers and friends of the school who brought donations for the Skelmanthorpe Pantry - you have all been so generous!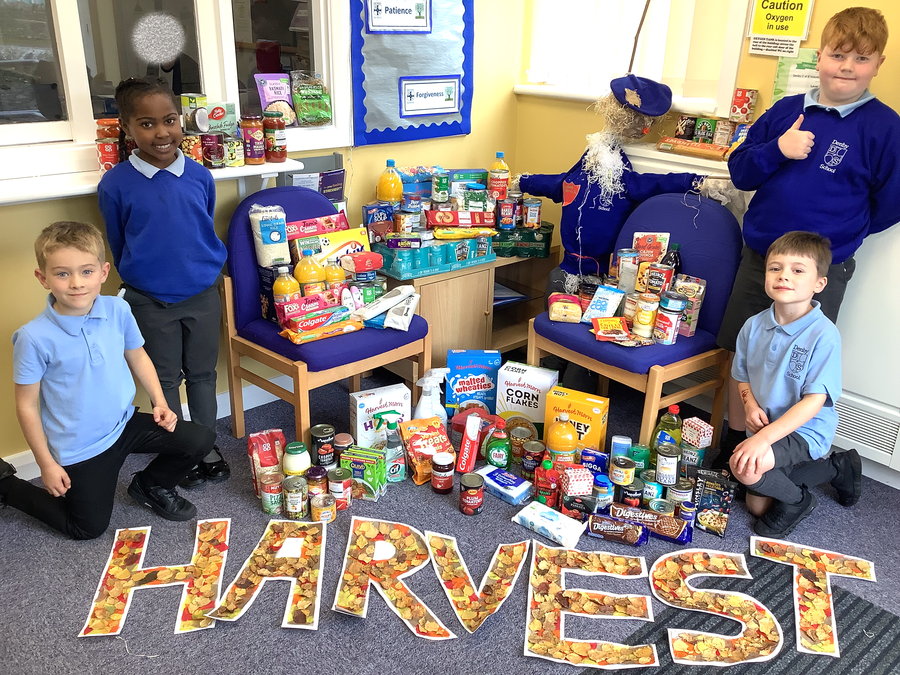 Road Safety
The first few days back in school after the Easter break was a busy one for our Class 2 and Class 3 pupils.
It was a full day for each class, which started with a short safety video and an activity booklet. The children thoroughly enjoyed the practical sessions and thankfully the sun shone for them! The children now feel much more safety conscious when out and about and crossing the road.
Vision Day
On Wednesday 17 March we held a School Vision Day.
It was a perfect opportunity now that we have all the children back together again to think about what a special school we are, about what makes us unique and revisit our school values.
The children took part in activities throughout the day to help to develop a new school vision. The children and staff had lots of fantastic ideas about why we are a special school and below are some of them. We used the Parable of the Mustard Seeds (Mark 4:30-32) which the teachers had chosen on our visioning staff training session as the stimulus for our activities.
Class 1 have been learning about the changing seasons. Children in Reception went on a leaf hunt to find the best leaves for printing. We discovered so many different varieties of tree in our grounds!
Our children were given the chance to try out different musical instruments when Kirklees Music School visited us. We were all keen to have a go and some of us even took up music lessons following the visit!
Class 2 visited Weston Park Museum as part of their topic on Egyptians.
Our Year 1 and 2 children took part in a cross country race along with children from other pyramid schools. They showed fantastic resilience and determination, keeping going until the very end! Congratulations to everyone who took part.
Welcome back! Here are a few snapshots of the new school year so far. It has been a very productive start to September.
Take a look at Class 2's (very authentic!) artwork inspired by the Stone Age.
We visited Wakefield Theatre Royal to watch the pantomime Cinderella this Christmas. The trip was kindly subsidised by Friends of Denby School. Lots of fun was had by all!
Class 1's Christmas Celebrations
Class 1 performed 'Away in a Manger' as their Christmas Nativity Play, telling the story of the birth of Jesus with a bit of a twist! They acted, sang and played their parts brilliantly.
We made Christingles for our service at St. John's Church in December.
We raised money for Children in Need with a 'dress spotty' non-uniform day. Thanks to everyone who helped us to raise funds for this very worthy cause.
Class 2 made these very eye-catching Maya masks in theme with their topic. What brilliant details they have included!
Our Year 3 girls represented the school magnificently at the Kirklees Cross Country Finals. A superb effort by all the girls! Well done.
Class 1 had a visit from Florence Nightingale from the Thackray Medical Museum. They had a very busy morning exploring the life of Florence and some of the difficulties she came up against in her work.
Harvest Festival at St. John's Church
Class 2 explored the grounds of Cliffe House in Shepley, discovering many species of wildlife and plants. They enjoyed a picnic lunch in the sunshine and a workshop led by Cliffe House staff.
Class 1 had a fantastic day at Manchester Airport Viewing Park. They had a tour of the outside of a plane, explored the inside of a 747 and watched planes take off and land from the viewing platforms.
We made the most of our beautiful surroundings with a walk to Denby Delf with Denby Dale Countryside Officer Dave Wilde. We all enjoyed our sunny walk, particularly searching for various insects and wildlife along the way.
Here are a few snapshots of a very busy February!
Children in Class 1 created this beautiful art work for Remembrance Day. They were very proud of their stunning display.