Eco-School Committee
September
Last year as part of our biodiversity Eco-topic we raised the funding to have our pond lined. Last week Gordon and Chris upgraded our pond and it is beginning to look fantastic. Next, we need oxygenating plants and perhaps a little wildlife to help it grow into a diverse habitat.
We need you!
Either, if you have a pond and can spare some oxygenating plants or even a newt or frog, we would love you to bring them in on Wednesday morning (21st September). Chris will be putting them in after 10.30am.
Or (you can do both) if you have time/ expertise/ interest we would appreciate some support in the long term to maintain our pond. If you are interested, please could you speak to the Eco-team (via Mrs Ackroyd).
July
Water
After the Eco-team launched our water saving poster competition, children throughout school took part in designing posters to encourage us to turn off taps to save water.
Our water saving posters winners were chosen and their posters have been displayed by sinks throughout school. A photo of our winners with their winning posters is below. We liked their clear messages to remember to turn off taps and eye catching designs. Well done!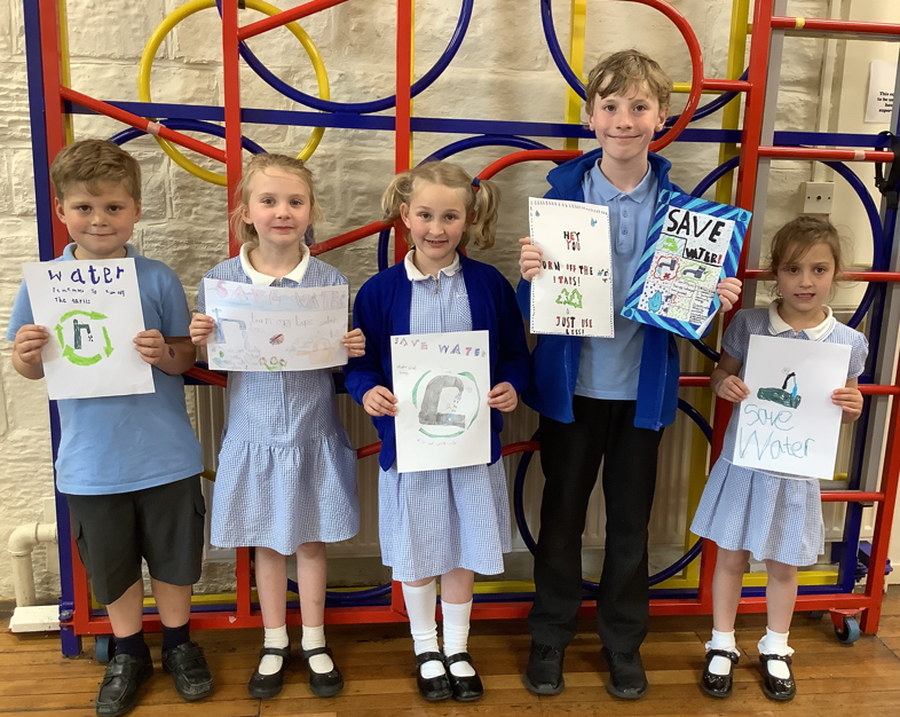 Water Monitors
Children throughout school have begun their roles as water monitors, making sure that at lunchtime taps are turned off and that our vegetables have been watered using lunchtime waste water. The Eco-team have been super role models and organised the role. Some children have even let us know they have turned off taps that have been left on when they use the facilities.
Big Plastic Count Letters to Kirklees Council
Class 2 and Class 3 have followed up our highly successful Big Plastic Count with persuasive letters that have been sent to Will Simpson. Will is a local councillor with an interest in the environment. The children were concerned that by 2040 single use plastics may have doubled and would like to government to reduce their targets.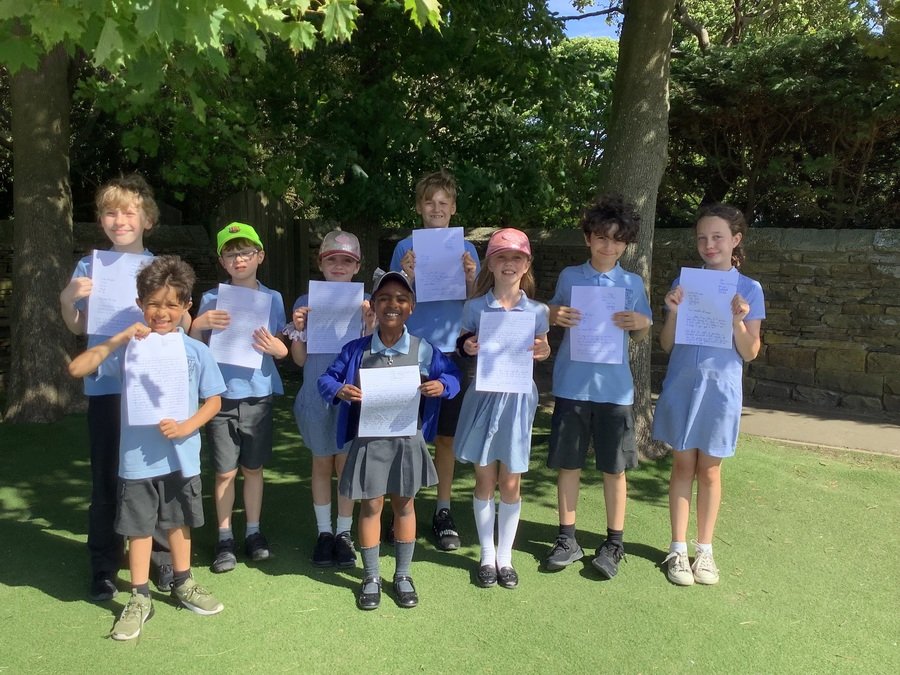 If you would like to continue to support reducing single use plastics in our community see more information here on Plastic Free July from Denby Dale Parish Council.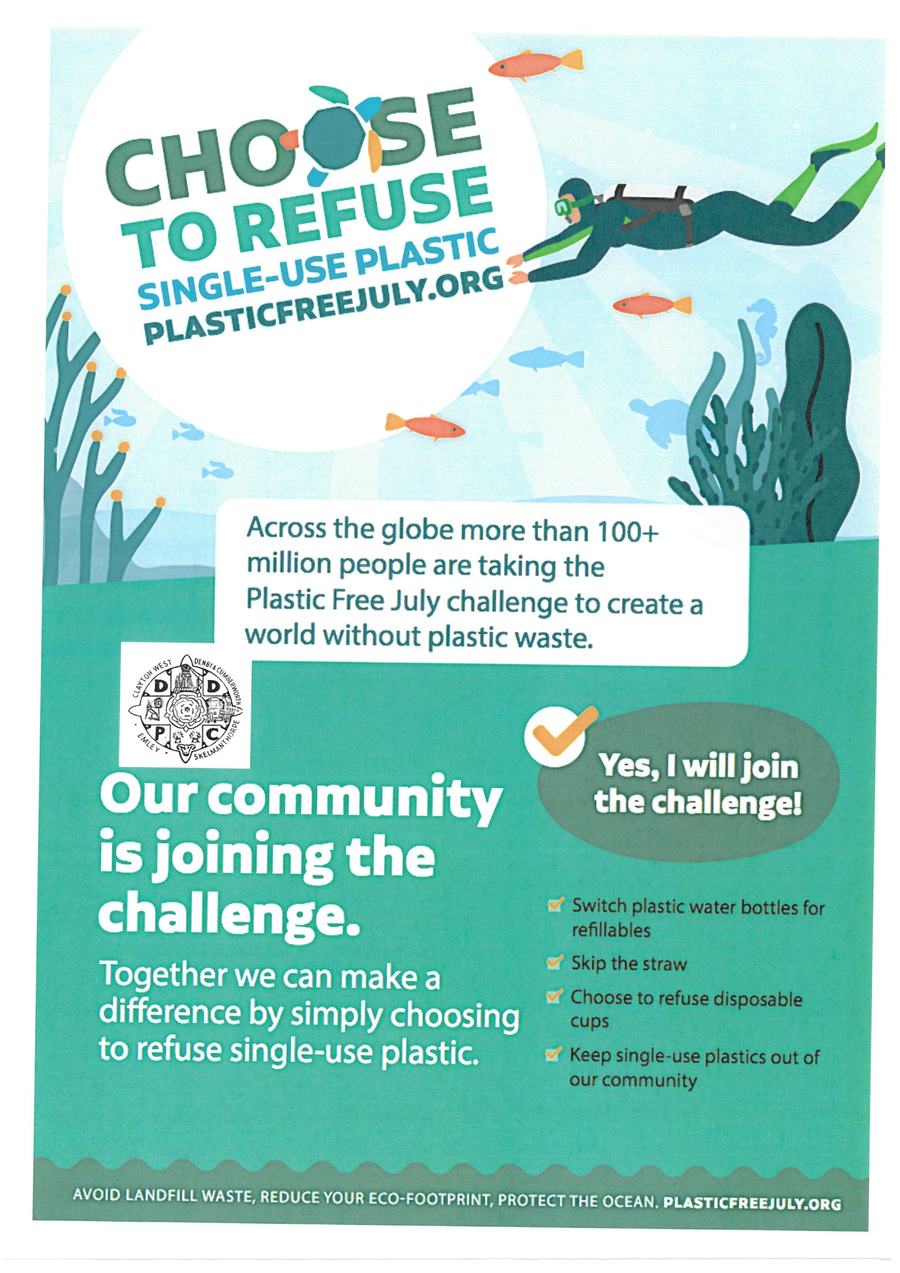 Denby's Eco-code
All of Class 2 developed our Eco-code for the school. Class 2 based the code on their involvement in Eco-schools this year and what they thought was important. Here are a few of our Eco-code posters. Well done Class 2, you had fantastic ideas and language.
June
Water
As part of our Water topic, the Eco-team talked to the school about how to save water and why it was important. The Eco-team launched a poster competition to encourage children to turn taps off in school. They also talked to the children about the new role of water monitors in school. A link to their PPT is here.
May
The Big Plastic Count
A huge well done to everyone who took part in the Big Plastic Count Monday 16th June to Sunday 22nd June. We have been super impressed with the enthusiasm for this project. We have sent you out a class link if you have a tally sheet with results to submit. Any problems just let us know. Here are some of your photos. Well done!
April
Marine
Miss Leijnse and Mrs Ackroyd are attending a meeting with Friends of the River Dearne on Tuesday 12th April to discuss and plan for some children to visit a local river. This will support our marine topic and support our school curriculum.
BioBlitz
On Saturday 2nd April between 10am and 4pm the Friends of River Dearne organised a Bioblitz along the River Dearne. They were based in a field in Denby Dale, not far from Londis. The Friends had set up activities including identifying and counting insects found on the land and in the river. The field had been opened up especially for the event and meant that visitors had lovely, easy access to the river.
Children from school attended the event and were excited to look closely at biodiversity in a local river. Biodiversity and marine (all rivers lead to the sea) are topics our school have chosen for their action plan so this event was great for us.
Emrys demonstrated how to take a river sample. He used a 'kick sample' by walking in the river to disturb the water and then tipped his sample into a tray. The children found lots of insects including magnificent mayfly larvae and caddisfly larvae with and without their cases. The water looked clear and they found a good number of insects.
Under an Alder tree Joe had an exciting discovery of many blue Alder leaf beetles (they really were a beautiful blue colour). The experts on hand offered support and information to help identify the insects.
Other activities were also on offer including printing in clay using natural materials.
This was a super event. The sun shone and the children had great fun. We look forward to following up this work in summer science lessons and as part of eco Schools.
March
Mrs Ackroyd and Mrs Hirst supported the Eco-team by looking at the finances for the plans and completed the Eco-schools support fund application for the Parish Council. This had to be applied for by the end of March.
Our Eco-schools support fund application was approved on 16th March 2022. Hooray!
Biodiversity
Mrs Ackroyd and Mrs Hirst found out that it was difficult to contact the providers of the wildflowers for planting in the school grounds. When they did speak to them the providers thought we should plant them in Autumn. We then realised there was no water in our school pond because there was a problem with the liner.
The Eco-team thought we should make sure the pond was working properly before buying wildflowers as they knew ponds are a great way of encouraging biodiversity into our school grounds.
Wildflower areas in Denby - Biodiversity
The Denby Village Conservation Group asked our Eco-team to support them in asking our school community where they would like to see wildflowers planting in our village. The Eco-team agreed on a letter to send to our school community asking for support for their ideas as to where these should be.
Here is the letter we sent out.
February
The Eco-team delivered a super presentation they had planned explaining the results of the environmental review that all the classes completed. The team showed the children how we chose our school priorities of marine, water and biodiversity. They also told children about how they were going to start work on the plan and how our school community could get involved.
You can see a copy of their presentation here.
Eco-team 'Water Workshop' with Dave Wilde.
The Eco-team met with Dave Wilde for a water workshop on February 18th. The objectives for the workshop were to:
Make children aware of the importance and worldwide scarcity of water as a resource.

To link our actions to implications for developing nations.

To give children practical ideas of what they could do at home/school to save water and therefore money.
Now the Eco-team have met with Mrs Hirst and with Dave Wilde they need to plan how we are going to save water in school. The Eco-team will need to enlist the help of the school to do this. To organise this our next meeting is planned for Wednesday 27th April at 1pm.
January
Since the last meeting the Eco-team have talked to the children in their classes and with their help completed an environmental review of the school. At their second Eco-School committee meeting on Friday 10th December the team discussed their findings with Dave Wilde who supported the team to develop an Eco-school Action Plan.
You can see a copy of our school Action Plan here. Our minutes from previous meetings can be viewed by clicking the link above.
The Action Plan and minutes from the meeting are also on our notice board outside school.
Here is a link to our January 2022 newsletter
October
On Friday 21st October 2021 our newly formed Eco School committee had their first Eco School's meeting. At the meeting Denby Dale Parish Council Countryside officer Dave Wilde welcomed the children into their new roles and introduced the Eco Schools award.
Watch out for more information.